Shopping Cart
Your Cart is Empty
There was an error with PayPal
Click here to try again
Thank you for your business!
You should be receiving an order confirmation from Paypal shortly.
Exit Shopping Cart
https://goo.gl/maps/VA9NnW72zfn
GARAGE DOOR REPAIR AND INSTALLATION
RESIDENTIAL GARAGE DOOR SERVICE

561-747-3332 561-676-2793

SERVING ALL PALM BEACH COUNTY, FL & MARTIN COUNTY
Garage door repair, installation and service - springs, openers, doors and more. We provide prompt, professional service at an affordable price. Call us today and let us get you back on track!
LIKE us at:
VISIT our website:
FOLLOW us on:
+1/ADD US to your Google+ circle:
Check out our blog at: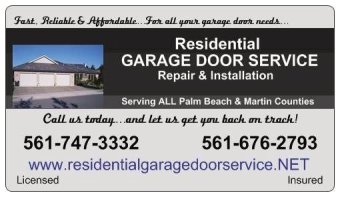 June is National Garage Door Safety Month. The following article provides good information on how to perform the basic safety checks but if anything is not operating properly, call your local garage door professional. In Palm Beach County, Martin County or Port St. Lucie, FL call Residential Garage Door Service at 561-747-3332 or 561-676-2793 to schedule a professional safety check, repair or replacement or your unit. 
http://www.poughkeepsiejournal.com/story/life/2014/05/31/homefinder-overhead-door-safety/9818703/

Common types of garage door problems:
http://dailyinfographic.com/common-types-of-garage-door-problems-infographic
4
Today's infographic features a room in your house–that you may not actually consider a room–where all of your extra stuff seems to accumulate. It also may be the hang out spot or band practice area for your teenage ruffians and all of their friends, or home to your beer fridge, and maybe even where you park your car. This "room" is your garage.
Like any other room in a house a garage needs maintenance. If your garage door breaks, you could be in for a lot of trouble. If the door refuses to close there's the issue of your security–anyone could walk in and take something–and it could also be a transportation block if you need to move your car. With any form of technology, even garage doors, one must be prepared for the unexpected and know what to look for if there's a problem. There could be a spring that needs replacing, or a cable that needs to be fixed, or even a damaged garage door track.
So, before you plan your next garage sale, check out today's infographic to see what can go wrong inside our garages. [
Garage Door Repair Company
]

Safety first! This video is a very informative public service message from the International Door Association explaining the importance of proper maintenance to your garage door in order to ensure everyone's safety.
/